May First/People Link Services
Common Hosting Services
This space outlines the services MF/PL members can access.
MF/PL provides hosting services as a benefit to members so the allocation of resources doesn't follow an 'a la carte' style price list for services like commercial hosting providers. Instead we work with our members to provide services relevant to their needs.
Websites
May First/People Link members can create any kind of web site they want, using SecureFTP to copy files over, or using our ​members control panel to install a Drupal or Mediawiki. You can also install by hand most other major web applications, like WordPress.
Email
Despite claims that email is dead, our members use it and use it massively. You can add as many email accounts, and then check your email using your own email client on your phone or desktop computer, or you can use our ​webmail system.
Email lists
You can create as many email lists as you want and make them public or private.
Virtual Private Server
Most members web sites and email are hosted on servers shared with a few dozens other members. We do offer a virtual private servers for members who need a server dedicated just to their use (and who contribute higher membership dues). Reach out if you're interested in this option.
Extra Services
The following services are all available to all members (and some are open to the general public).
Share documents with NextCloud. May First/People Link members can share and synchronize documents with other users through our NextCloud service. You can share documents with your friends, synchronize them to your computer or cell phone, make the publicly available via the web, and you can even edit them on the web.
In addition, you can use this program to synchronize your contacts and calendar on your cell phone, allowing you to backup your sensitive personal data via May First/People Link rather than Google or Apple. No need to synchronize your data to the corporate cloud!
The NextCloud services comes with programs you can install on Linux, Macintosh or Windows computers to synchronize the files. There are also apps for Android and iPhone. Maintainer: ​https://id.mayfirst.org/jamie.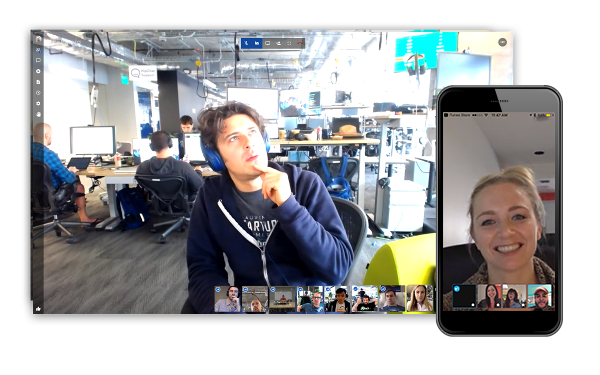 Web conference with Jitsi Meet. Do you want to have a video conference call? No need to install special software or pay for a skype account. You can do it with free software and just a web browser. Send all of your meeting participants a simple link that they click on and you can all talk with each other and see each other.
Perfect for collaborating with people in different locations or when you can't all be in the same room for a meeting. For full directions, see our web conference page. Maintainer: ​https://id.mayfirst.org/jamie.
Instant Messaging/Chat (xmpp). We run our own federated chat service. Any member with a valid May First/People Link user account can start using it immediately. Your handle is your username followed by @mayfirst.org. By using an open protocol, May First/People Link users can communicate with other services that also use the XMPP protocol. Our server supports text, video and audio!
In addition, our service supports the "Off the Record" (OTR) option - which ensures that your conversation is not only confidential, but also provides "deniable authentication" meaning that nobody can prove the communication was sent by you. We have also enabled OMEMO encryption (newer and stronger than OTR), which is in use by some instant messaging apps and soon to be adopted by others.
You can connect via a desktop chat client or an Android or iPhone application. And the best part is that most chat clients can connect to our service, allowing you to continue chatting with your friends while also providing the opportunity to securely chat with people using XMPP. Maintainer: ​https://id.mayfirst.org/ross
May First/People Link Live Broadcast audio or video to a mass audience. Any May First/Peole Link member can broadcast your workshop, plenary or performance over the Internet with nothing more than your web browser and web cam.
You can broadcast directly from your computer (Mac, Windows and Linux supported provided you are running Firefox or Chrome) or via your Android phone (sorry iPhone users - Apple doesn't support the standard). Maintainer: ​https://id.mayfirst.org/erq
Audio Conference with Mumble. Need a simple, audio-only conference system that runs over low-bandwidth connection on Windows, Linux, Mac and even your android or iPhone? Our mumble server is the way to go. Maintainer: ​https://id.mayfirst.org/jaimev (see #10641)
Share spreadsheets with EtherCalc. We also have a combination wiki + spreadsheet accessible via ​https://calc.mayfirst.org/. Anyone can use it to collaboratively and simultaneously work on spreadsheet documents. Maintainer: ​https://id.mayfirst.org/jamie
Behind the scenes
The following services may not be immediately visible to most users are may be taken for granted, but they are nonetheless a critical part of our organization.
OpenPGP server. May First/People Link contributes to the global network of OpenPGP key servers with keys.mayfirst.org. This service isn't limited to just May First/People Link members, but is available to everyone on the Internet. Maintainer:

​

https://id.mayfirst.org/dkg
To enable members to login to various services with their existing username and password, we have a login service.
Experimental Services
These services are not recommended for general use because they are experimental and/or are being tested by members:
Chopping Block
These services will be retired.
Live provides video conferencing via the web:

​

https://live.mayfirst.org/ - this domain will be taken over by the MF/PL live service (#7248).

​

FreeSWITCH, our internet telephony platform at talk.mayfirst.org , for us to test our communications with SIP clients
LimeSurvey provides the ability to survey a group of people via the web:

​

http://survey.mayfirst.org. See #10638
Mexcla. May First/People Link believes in language justice - the ability for everyone to speak in their chosen langugae. Mumble does the job much better so we no longer need mexcla.

​

May First's social networking site has been underutilized for years and now only supports a handful of users.
Proposed new services
Attachments
(3)
Download all attachments as: .zip